F1 in London
Formula One in London's Regent Street
On Tuesday 6th July 2004, Formula One descended onto the streets of London, attracting half a million spectators. Andy Secker and I hopped on a train to London that evening and it was well worth the return fare.
It was a lot busier than anyone expected, so we were very lucky to get some photos. We turned up an hour early to get a good viewpoint, but lots of other people were clearly thinking ahead of us! All of the photos were taken from Piccadilly Circus, as it was hard to move anywhere else.
Photos of F1 in London

Piccadilly Circus was rather crowded to say the least. Believe it or not, we were relatively close to the front here. I can't imagine the people behind us had a particularly great view!

Half an hour before the action started, our legs were already feeling a bit tired from standing still. This guy was handing out fire extinguishers (foam, unless I am mistaken) to important-looking people on the narrow track. It all felt rather like Monaco, but with a speed limit of 75mph and the safety barriers were probably insufficient to stop an F1 car.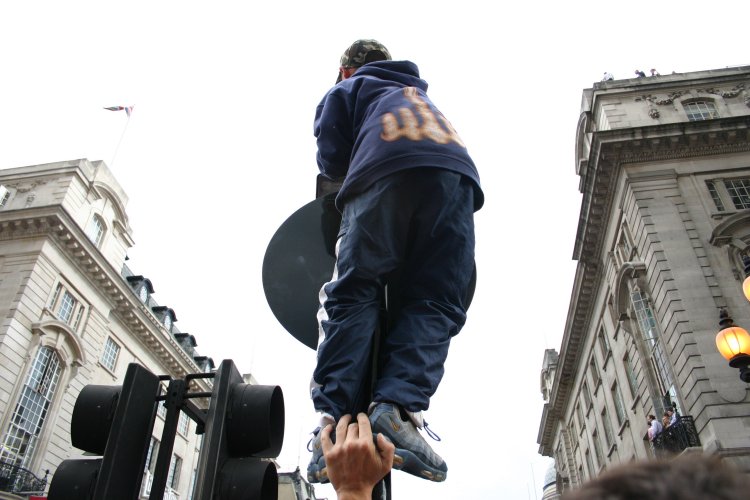 Everyone was starting to wish they'd arrived just a little bit earlier so they could get a better view. This little kid is being shoved up a road sign.

We'd managed to cross the road earlier and were unable to cross back by this stage. This annoyed us, as we could see a nice clear viewing point opposite. We were move cheerful when we realised the police weren't letting anyone stand in that space. I wonder why?

Now this is where we should have been spectating from!

A Ford Ka roars by. Feel the power. I think the waving guy (in yellow) is Nigel Mansell.

Don't ask me what this was all about. It was like an office on wheels, with Vodafone advertising all over it. I never liked Vodafone because they can't spell phone properly.

We heard a roar of noise from the other end of the track. It was getting louder and louder. Imagine our excitement as a City of Westminster road sweeper cruised past. The guy waving from the cabin got a few cheers.

I had no idea what these people were standing on, as I just couldn't see. But I got the impression they weren't meant to be there, as they kept shouting and swearing at people below.

Holding my camera in the air, I was able to get a nice shot down the starting straight. That's the safety car down the end, ready to roll towards us. It was quite remarkable to consider a 75mph speed limit on such a narrow track.

Now, while it would have been cool to take some photos from up here, I wouldn't like to have been in that guy's position. I'd be worried about falling off!

The safety car heading back to the start after checking the track is clear. God knows how I managed to get that in focus with all those heads in the way.

A cropped 6 megapixel image of one of the F1 cars leaving tyre marks down the finish straight. I've never seen an F1 car this close before. They can be pretty noisy up close and they have amazing acceleration.

A Ferrari passes through Piccadilly Circus. Curse all those people holding their cameras in the air! The cars went past very quickly, so it was difficult to get a photo at the right moment. Oh well, maybe more luck later.

Here's the twin seat F1 car with some rich bird in the back. Notice the guy in the background on top of a traffic light. Why didn't I think of that?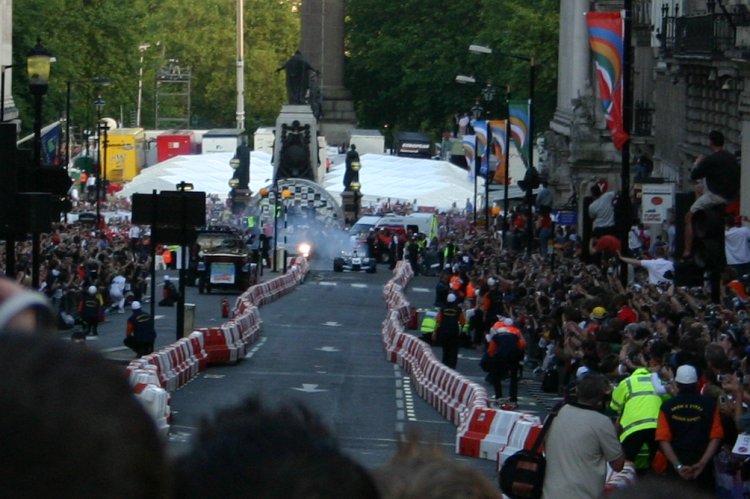 A little puff of tyre smoke as an F1 car starts heading off from the start.

Another cropped image as the car continues up the start straight. The looming crowd forced me to use manual focus at this point, which was very much a point and guess procedure, as I could not see through the viewfinder. Not a bad attempt.

Another cropped image, showing the safety car disappearing into the smoke after an F1 car decided to lay some rubber down on the track.

I guess this was David Coulthard! This was taken with ISO 400, but there was still a bit of motion blur.

A slightly better shot of a passing F1 car. It almost didn't have any cameras obscuring the view!

When I took this picture, I thought, "Awesome!" I'd managed to capture the entire car speeding past without anything in its way. It wasn't until later that I realised I'd focussed nicely on that guy's bald head. Bah.

Well, that was it. Of the 150 photos that I took, only the ones shown here were vaguely good. The crowd spilled out onto the track to make their way home.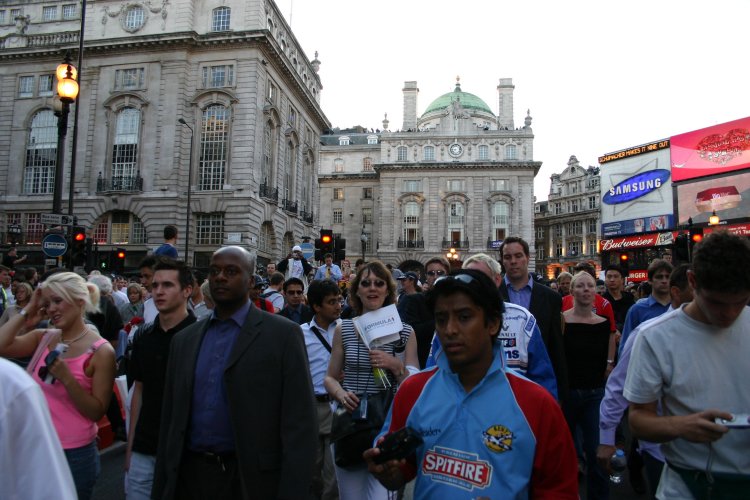 As we left Piccadilly Circus, we were glad that everyone seemed to be going in the same direction as us!

Look - proof that Formula One cars had been driving down Regent Street - grooved tyre marks!

It seemed to be getting a bit more crowded as we approached our exit.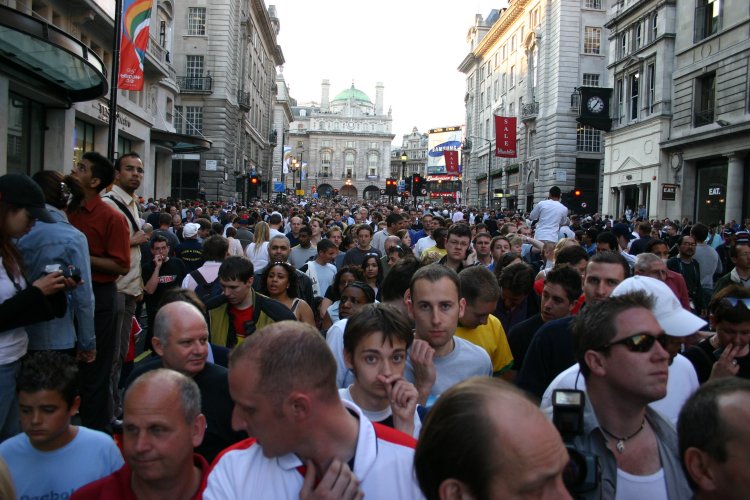 This would have been a good opportunity to learn crowd surfing.

Do You Feel Lucky? I bet he didn't after someone splatted ice cream on the windscreen of his nice shiny Hummer. Update: Apparently, this happened because - like us - lots of people had turned up early to get nice viewing positions. Just before the action was about to begin, this Hummer then parked in front of them, totally obliterating their view. I can understand why they were annoyed enough to throw stuff at it.

The day was very well planned, apart from the road barriers that they'd dumped in front of our exit. I wouldn't fancy trying that in high heels.
All photos copyright Paul Mutton.
Search this site
Copyright Paul Mutton 2001-2013
http://www.jibble.org/
Feedback welcomed